Russ Wicks Qualifies in Miss Budweiser
San Diego, Calif. (Sept. 15, 2000) - Once again Russ Wicks, driver of the World's Fastest Propeller Driven Boat, the U-25 Miss Freei, accomplished something many only dream about.
Wicks piloted Bernie Little's Miss Budweiser unlimited hydroplane around San Diego's Mission Bay race course, qualifying him to compete in unlimited hydroplane races.
Needing only two additional laps of 130 mph or higher to compete, Wicks managed to get the two laps in prior to the course closing on Friday. After a hurried cockpit fitting by the Miss Budweiser crew, Wicks clocked in at 130 mph and 147 mph respectively.
Wicks almost didn't get the laps in when his breathing mask came off in the cockpit as he arrived at the first corner. In true Wicks form, he spent most of the two laps trying to snap his mask back on while concentrating on driving the boat at speed. "The boat ride was flawless," an excited Wicks said.
Miss Budweiser driver Dave Villwock graciously stepped aside so Wicks could take the legendary boat on the course. "We are pleased to give Russ the chance to qualify as an Unlimited driver and we are happy to help," Villwock said.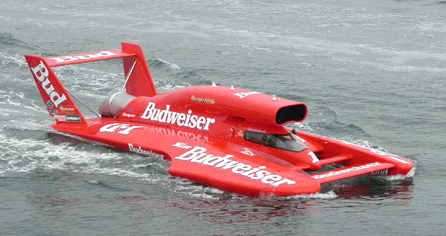 "What a way to end the year, I am honored that Bernie Little and Dave Villwock gave me the opportunity to drive the World famous Miss Budweiser," said Wicks. "I have achieved a life-long dream and would like to thank everyone on the Miss Budweiser team for their help."
Little's Miss Budweiser team is the most successful team in the history of Unlimited Hydroplane racing. In addition to the 20 world championships, Little has won a total of 130 races in his 38-year career with Anheuser-Busch.
It is only fitting that Wicks who began the year breaking the World Water Speed Record for a propeller-driven boat with an average speed of 205.494 mph finish the racing season qualifying in the Miss Bud.